WHERE WILL YOU GO THIS WEEKEND?
The Overland S is the Overland Series Base Model. Build your bike around how and where you'll ride!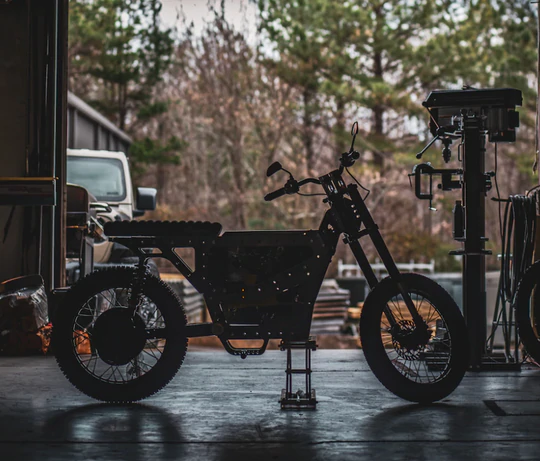 CUSTOMIZABLE
THE BIKE OF CHOICE FOR STORM TROOPERS
With dozens of customization options, like colored panels, handlebars, and tire choices
the possibilities for personalization are limitless.
OPTIONS, OPTIONS, OPTIONS
FRAME AND BODY
All frames are powder coated in Granite Black and Umbra Gray allowing a unique contrast with each section. With 6 color choices for the top and bottom panels, there are options for everyone.
RANGE
The S model comes standard with a single 50ah battery allowing for up to 40-45 miles of range. Add the optional second battery to double your distance.
UPGRADES
Change out the tires from dual sport to off-road. Add an alarm, rear rack or front rack. Throw on a tail box or tow a trailer out to your favorite remote camping spot. Make this ride fit your style, vibe and outdoor needs.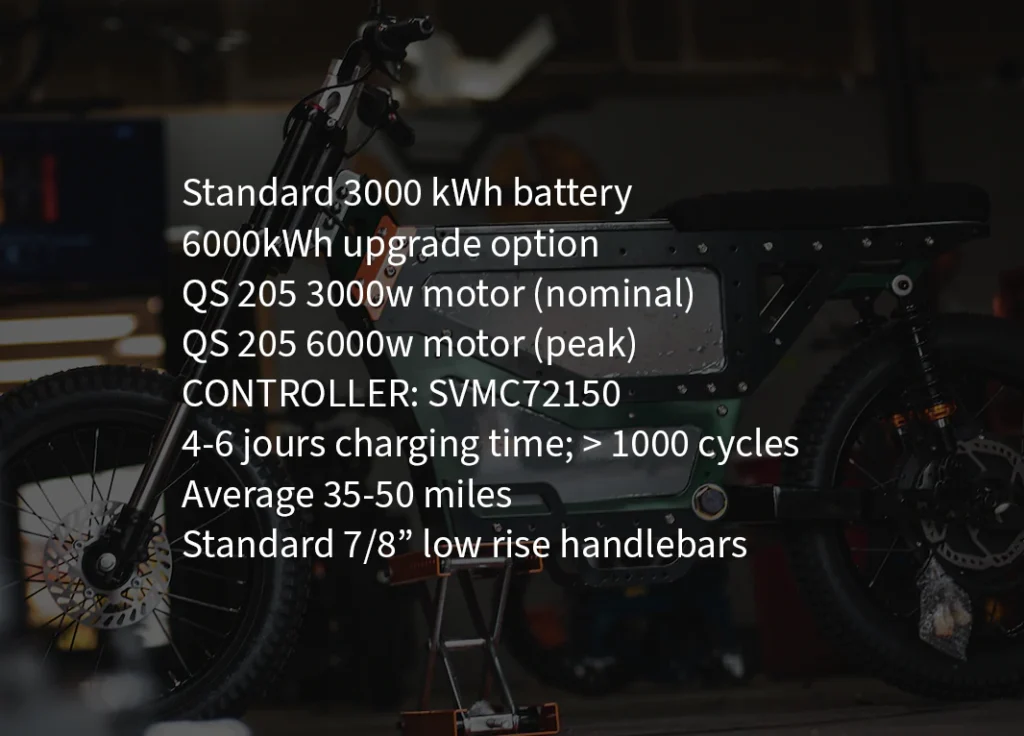 THESE ARE NOT TOYS – THEY ARE VEHICLES. AS SUCH, UPKEEP AND MAINTENANCE MAY BE REQUIRED. 
HIGHER SPEEDS MAY CAUSE VIBRATION, LIKE THAT OF A MOTORCYCLE OR MOPED, AND MAY CREATE THE NEED TO TWIST A WRENCH OR CHECK A CONNECTION. PLEASE DO NOT PURCHASE THE REBEL, STINGER OR OVERLAND IF YOU ARE AFRAID TO GET YOUR HANDS DIRTY AND TIGHTEN THE OCCASIONAL BOLT OR FIX A LOOSE CONNECTION.
"THE AVERAGE MAN DON'T
LIKE TROUBLE AND DANGER"
-Mark Twain
CORE FEATURES 3000W MODELS
Bikes Are Shipped with Certificate of Origin as an Electric Moped
49cc Moped Class
QS 205 3000w Nominal /6000w Peak Hub Motor
40 Miles Range Per Charge
Speed Modes Programmed

Mode 1:  18 mph
Mode 2:  30 mph (legal moped speeds)
Mode 3:  45+ mph (off-road or private property use only)
STANDARD FEATURES 
Vintage Moped Style Steel Frame (Made in the USA)
Standard Black Seat
Triple-Tree Handle Bar Mounts with Inverted Front Forks
17″ Front & Rear Tires
Maximum Load : 275lbs
Motorcycle Quality Rear & Front Hydraulic Disc brakes
The Rebel Now Comes Standard with Foot Pegs
ELECTRICAL SYSTEM
Flat Panel LCD Display
On/Off Key Switch
Park Mode
AC 110-240V 5A Charger (Standard Wall Outlet)
Full-Twist Throttle
12v Conversion System for Accessories, Horn and Lights
LED Headlight w/ High and Low Beams
LED Turn Signals & Integrated Brake Light
LEGAL STUFF
PLEASE CHECK WITH YOUR LOCAL LAWS REGARDING THE LEGAL LIMITS AND REQUIREMENTS FOR MOPEDS.
Bikes will ship with a VIN plate and Certificate of Origin to allow for proper registration and insurability as a moped. VIN Process requires submission to NHTSA for approval and can take up to 60 days. We submit your VIN within 24hrs of purchase.This bike should be registered as a moped if the rider intends to ride on the road. When operating the bike, on road or off road, we recommend wearing the proper protective gear and obeying proper laws and regulations. It is also recommended that unless registered, the bike should only be ridden on private property and roads.
Please check with your local laws regarding the legal limits and requirements for mopeds.
Please be aware, we do charge a cancellation fee on any cancellation after 48 hrs of purchase. Please see our policy for more details.
*VEHICLE SPECIFICATIONS AND PERFORMANCE METRICS ARE PROSPECTIVE, REFLECTING CURRENT ENGINEERING AND DESIGN DIRECTION. FINAL PRODUCTION SPECIFICATIONS AND PERFORMANCE METRICS ARE SUBJECT TO CHANGE. FEATURES, OPTIONS AND ADD ONS MAY NOT BE AVAILABLE ON ALL MODELS.

*PRICE DOES NOT INCLUDE ANY FEDERAL, STATE AND/OR LOCAL TAX SUBSIDIES OR INCENTIVES WHICH MAY BE AVAILABLE.