THE OVERLAND ALL TERRAIN
Keeping true to the name, the AT is built with off-road tires, tuned shocks and additional features specific to an optimal operating experience away from public roads. Adventurers and explorers, this is the one for you.
ON AND OFF ROAD
With the power of a 3000w motor, the Overland is as capable on the road as a legal moped as it is off-road as a workhorse.
DUAL BATTERIES
Under normal riding conditions, riders can expect  80-90 miles of riding with the dual battery configuration.
RUGGED ALUMINUM FRAME
An American, weld free frame, cut from durable and rust free aluminum ensures your ride will handle what you throw at it.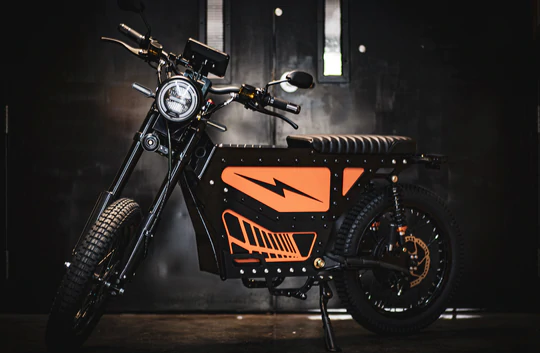 ELECTRIFIED STEALTH
KEY FEATURES
-Off Road Tires
-Sport Suspension
-Rear Rack
-Mud Guards
-Skid Plate
-Dual Battery Standard
-Full tear down frame
-Easy transport and shipping
CORE
The frame is completely weld free, allowing each panel to be removed or replaced. Customize your panel colors and switch them out with little effort.
MODULAR
An emphasis has been placed on complete modularity. Attachments and accessories are easily bolted on to the existing platform with ease.
ELECTRICAL
Our upgraded electrical system is complete with waterproof connectors, bright DOT approved LED lights, and plug and play connectors.
"THE AVERAGE MAN DON'T
LIKE TROUBLE AND DANGER"
-Mark Twain
CORE
VIN Moped Class
3 Speed Modes (18mph/30mph/40+mph)
Vintage Moped Style Steel Frame (Made in the USA)
Triple-Tree Handle Bar Mounts with Moped Style Front Forks
17 x 2.75 Front Tires
17 x 3.0 Rear Tires
Maximum Load : 325 lbs
Motorcycle Quality Rear & Front Hydraulic
POWER & ELECTRICAL
Bright LCD Display
Dual 3000kWh Batteries
3000w Nominal / 9000w Peak Motor
Sabvoton 150amp Controller
Battery Life – 1000 cycles
DOT Approved Vintage Motorcycle Style Headlight w/ High and Low Beams
DOT Approved Turn Signals
DOT Approved Integrated Brake Light
KEY FEATURES
On/Off Key Switch
Full-Twist Motorcycle Throttle
80-90 Miles range varies by rider type
325 bs Load Capacity
200 lbs Towing Capacity
2 Persons Capacity (long seat)
Personalized Customizations
Aluminum Body
LEGAL STUFF
PLEASE CHECK WITH YOUR LOCAL LAWS REGARDING THE LEGAL LIMITS AND REQUIREMENTS FOR MOPEDS.
Bikes will ship with a VIN plate and Certificate of Origin to allow for proper registration and insurability as a moped. VIN Process requires submission to NHTSA for approval and can take up to 60 days. We submit your VIN within 24hrs of purchase.This bike should be registered as a moped if the rider intends to ride on the road. When operating the bike, on road or off road, we recommend wearing the proper protective gear and obeying proper laws and regulations. It is also recommended that unless registered, the bike should only be ridden on private property and roads.
Please check with your local laws regarding the legal limits and requirements for mopeds.
Please be aware, we do charge a cancellation fee on any cancellation after 48 hrs of purchase. Please see our policy for more details.
*VEHICLE SPECIFICATIONS AND PERFORMANCE METRICS ARE PROSPECTIVE, REFLECTING CURRENT ENGINEERING AND DESIGN DIRECTION. FINAL PRODUCTION SPECIFICATIONS AND PERFORMANCE METRICS ARE SUBJECT TO CHANGE. FEATURES, OPTIONS AND ADD ONS MAY NOT BE AVAILABLE ON ALL MODELS.

*PRICE DOES NOT INCLUDE ANY FEDERAL, STATE AND/OR LOCAL TAX SUBSIDIES OR INCENTIVES WHICH MAY BE AVAILABLE.